DAILY HABITS & DEEP DIVES: The At-Home Residency
Jan 13, 2022
An artist's residency is an opportunity for an artist to take time away from day to day responsibilities, and take a deep dive into their creative practice. This time of concentrated focus can be critical to developing a body of work.
THIS MONTH, I AM GIVING MYSELF THE GIFT OF AN AT-HOME RESIDENCY. I have carved out a chunk of time from January 15-30 to honor my introvert, spend the majority of each day alone in my home studio without distractions, and feed the part of me that is hungry for working BIG.
And I'll be starting a new daily habit – A HABIT OF PUTTING MY ARTMAKING FIRST.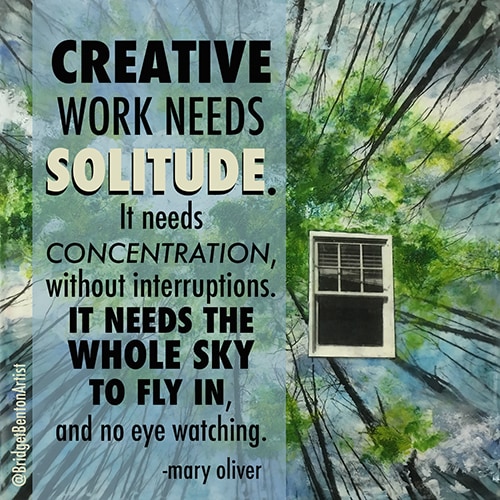 This time last year, I applied for a three-month residency at Sitka Center on the Oregon Coast. I wasn't one of the artists selected, but I never stopped craving a big chunk of time like that to pursue new ideas and just follow my own creative instincts without external distractions. (Internal distractions? That's a whole other story!) So, I'm trying this. Sure, getting away would be great - but this is really cost-effective, and I don't have to pack up my studio! Twelve days isn't much, but it's a start. It's the "staycation" of artists' residencies.
In 2021, I did a great job of establishing a habit of consistently making art. They were small pieces, but they were a LOT of small pieces. I fit the studio time in around all the other tasks that make up a life as a working and teaching artist – marketing and social media, prepping class materials, building a website, teaching, photographing my work, responding to student and collector emails, packaging and shipping work, writing proposals, etc. And that doesn't include time spent shopping, cooking, cleaning, or time with family and friends.
That's just it, though. I fit studio time in around those other things. Now, I'll see how it is to fit those things in ONLY after I've spent time in the studio each day, focused on my creative practice. I'll start the day in the studio, not on my computer checking email. I made sure I don't have to work at the gallery during that time, or cook meals, or teach. I have no non-medical appointments outside the house during that time. I won't check emails during the day.
There's a reason we call it a "creativity practice." It's a skill, a thing you do over and over again so you get better at it. You just keep showing up in front of the blank canvas, over and over. And eventually, you train yourself to tune in to the deep, intuitive, creative voice.
And like any voice, it's easier to hear in a quiet room.